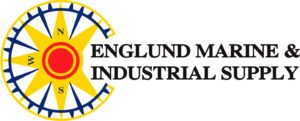 Ordering:
When to order
Fishermen! October/November is the time to order tuna gear for next season. We don't keep an inventory, but instead we build your order during the winter. When you are out fishing so are we! So order in the Fall when you are putting your albacore gear away for the winter. We rebuild and repair all of our products: poles, pads, scoops, and nets. We build a small amount of "standard" gear each winter, but don't count on any late spring inventory as it generally is gone by May.
How to Order
Order new gear or bring in gear to be rebuilt to any Englund Marine store.
You can phone in your order directly to Sheila in the Astoria store: 800-452-6746
You will find convenient order forms at all Englund Marine stores.
We prefer a deposit on large or special orders.
If you have any questions…
Call us at our shop: 707-442-7382. We would be glad to volunteer some of our time to help you get set up with the right gear for your operation and help you avoid duplication or unnecessary expense. We know what works, and can help you with things from poles and pads to lampara style nets, double sheeve net haulers and custom built net skiffs. We also do bait tank design for aluminum construction.
Shipping:
If you live south of Eureka (the southern most Englund Marine store), we can take your gear order directly, however getting you order to you could be difficult. Some of our small items (chum scoops, pads) can be shipped via FedEx Ground. Larger items–poles, crowders, transfer scoops–have to go via commercial truck. We have an account with U.S.F. Reddaway which will save you on the freight rate, but it's still not cheap. On occasion we can deliver or find another fisherman traveling the coast–a little slower but not so much money. You can also pick up your order at our shop. Still, your best bet is Englund Marine.