LAMPARA BAIT NETS
During the fall, we take orders for Lampara Bait Nets for spring delivery. We only build one or two nets each winter and fit these jobs into our other winter gear work.
We are set up to build two styles of Lampara Nets. The first, a San Diego style net is characterized by light large mesh wing web (6"x #6 thread), assembled in panels and combined with a large band of 2" stretch measure throat webbing attached to a relatively small bunt or sack. Wing web on these nets is "hung out" 100% and the hauling force is through the cork line. These design features restrict the fishing depth during both setting and hauling. Also, the 6" wing mesh is subject to damage from drop-through corks or lead lines during setting. The advantage to these nets is a smaller web pile.
The nets we prefer to build are as follows:
"Peterson Style Wings"
These lampara net wings were developed by John Peterson of Santa Monica, California. His design is characterized by a 30 mesh deep cork line selvage strip (1 ½"x #12 thread), a cork line hung slightly slack above the selvage strip, one or more horizontal strips of 4"x #9 thread wing body (also hung in at 5%), a lead line selvage strip 12 meshes deep (2"x #12 thread), and finally 95 pound Sampson Lead core Lead line.
The hauling force is transmitted through the cork line selvage strip which allows the corks to clear the fairlead pins without damage. While the tensioned selvage strip carries the haul back force, the wing body is allowed to remain at fishing depth throughout the haul back procedure. Peterson style wings are connected directly to the bunt or sack web without a band of throat webbing. Instead, each wing terminates at the bun t with the addition of a wing "throat wedge" of the same material. This wedge, 100 meshes deep on the bunt intersection helps close the wing mesh at the very end of the set. Typically, bunt web on these nets is 7/16" x #3 thread knotless. Panels are taper cut and joined to form a hemispherical bunt. These nets tend to be slightly bulkier, but are more durable and easier for an inexperienced crew to stack.
Lead Time for Ordering Materials
Forty years ago, fishermen could walk into almost any fishing supply store and buy net making components out of that store's inventory. That is not the case today. We use domestically manufactured web, ropes and twine whenever possible. Cork and lead lines come from Sampson Cordage in Washington State. Diamond Net, also in Washington, builds our wing web and selvage strips for both lead and cork lines. Everson Cordage supplies our twine. 7/16"x #3 thread knotless bunt webbing comes from overseas vendors, takes a 6-8 month lead time and is subject to minimum poundage orders over 250 pounds.
We keep some domestically manufactured materials on hand, but special web requests are slow and difficult to procure. What does this mean? Unless we have the materials on hand in our shop, please expect at least a six month wait time on a net, and then we still have to build it! The average bait net (45 fathom wings) is over 200 hours of labor. So……..don't wait until you need to catch bait for the next fishing trip to call us.
LAMPARA NET HAULERS
There are a number of methods for hauling back lampara bait nets. The first and most labor intensive is by hand with a crew of four. However in this day and age, most nets are retrieved using hydraulically driven equipment. These power haulers come in three basic forms:
The simplest and least expensive hauler is basically two automobile tire rims welded in tandem with a centered flange that couples directly to a high torque, low RPM hydraulic motor with bearings rated for 400 pounds of side load on the output shaft. This hauler is generally mounted on the starboard corner of the vessel bait tank. These haulers cannot be rubberized to increase traction, as the shape of the car tire rim precludes this. Materials like linex (bedliner) seem not to work very well. As a result, these haulers typically have poor net traction.
A couple of boats are hauling bait nets with stern mounted salmon net power rollers. These hydraulically driven rollers have a rubberized drum for better traction, a free spool clutch (generally not required), and "built in" net fairleads. Having the net hauler and fairlead combined makes things somewhat more simple but the hauler/fairlead combination can be heavy and bulky and may require being mounted on a tall, substantial bracket to increase drum traction through additional net contact. This style of hauler dumps all the net wing next to the vessel rail and this hauler cannot be used to back stack the second wing or remove a twist.
A number of years ago, upon request, we designed a two sheave hydraulic net hauler based on a 12" diameter Puretic net block. These small net power blocks were widely used in Alaska for hauling "leads" on salmon purse seines back into the seine skiff. We doubled the sheaves, and designed a fabricated arm to hold the hauler and attached it to a 3" diameter pipe stand, either deck or bait tank mounted. These haulers are rubberized, feature two vee groove sheaves, are open on one end to accept each net wing, and are hydraulically gear driven and reversible.
They require about seven GPM of oil to operate and need a dedicated hydraulic valve capable of "forward", "reverse", and "lock". Mounted at least 48" above the deck, these haulers can be used to remove a twist in a wing and to back stack the second wing prior to resetting.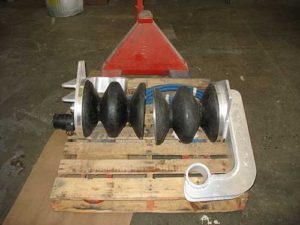 Initially, these haulers were built for Cloudburst by Nick Zardis of Kolstrand. However, upon the closing of Kolstrand, Justin Fontes of Integrity Machine Co. in Ballard (Seattle, WA) has built at least five of these haulers. You can call us for information or contact him directly. His contact information is:
4733 Ballard Ave. NW, Seattle, WA 98107
206-784- 2500
www.kolstrand.com.